10 tips to create perfect photos!
24 Jun 2019
This post is also available in:

Español
If there's something I love, is being able to use the same app for different things. That's why AirBrush is my go to app when it comes to editing photos, it has so many free features. Stay with me! I'm gonna show you 10 awesome tips on how to use AirBrush for perfect photos.
1. 1000 filter in 1!
If you though AirBrush had lots of filters, wait until I tell you about this tip…
First, choose a filter you like and apply it to your picture;
Go to Skin Tone and pass the brush through the entire photo!
Every skin tone will leave your photo in a different hue than the same filter. So, in addition to the basic filter, you can customize it with a skin tone to make it even more personalized. 😉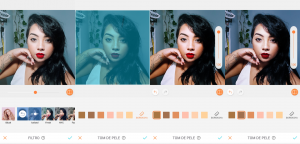 I used the Iceland filter, and the other two photos are an example of how two different skin tones can make all the difference with the same filter.
2. Putting a smile on "serious" photos.
I don't know about you, but I always make a "serious" face on photos. However there's an easy way to fix this using Reshape.
Choose the Light brush and move it around until you like the result.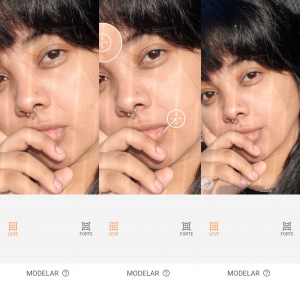 It even looks as if I was smiling slightly, isn't it?!
3. Removing the yellow-ish.
This one is an old one, but a really helpful one. Removing the yellow-ish tint from pictures taken indoors or at night. Just adjust the Temperature levels in the Enhance folder which can be found inside the Tools.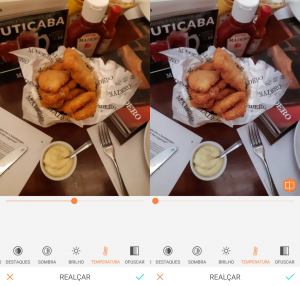 4. Cleaning up the background.

I'm pretty sure you've heard about AirBrush's new feature: Eraser. It is amazing the things it can make disappear, like people in the background or ugly items stealing attention from the main objective, but here's a tip: you can also use it to get rid of the little imperfections on the walls.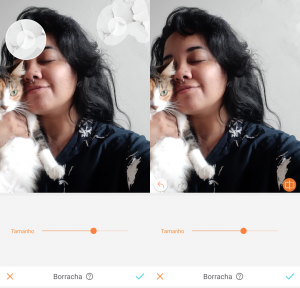 5° Darkening the photo background.
My first advice is: take the picture in front of a window, this way the background is gonna be a bit darker. After that, go to Skin Tone and pass the brush through the parts you want to darken.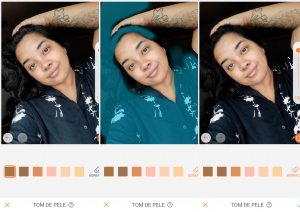 You can also use it on you hair.
6. Improving Bokeh.
Try applying the Bokeh effect in the parts where it didn't apply automatically.
Use the Eraser to remove unwanted objects or people.
The trick to apply the filter is to Rotate the picture. Rotate, rotate, rotate, until the Bokeh applies itself in all the areas you wanted it.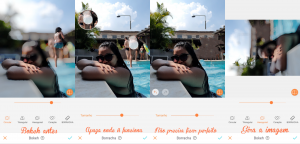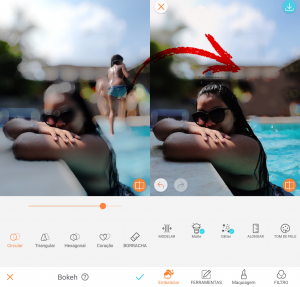 7. Stretch your picture to cut less of it.

Don't you hate it when you have an incredible picture but when you try to post it on Instagram, it makes you cut it and lose some parts of the picture in the process?!
This tip will help you stretch your photo so you can crop it when posting it to Instagram.
Go to the Stretch feature;
Stretch all sides of the picture, (rotate it to stretch the sides)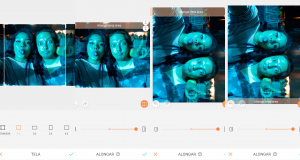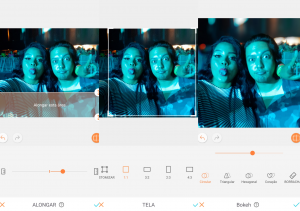 I cropped it the way I wanted it, and apply the Bokeh effect to disguise the stretched areas.
8. Changing eye color.

I really like this one! It's pretty simple to change the color of your eyes with AirBrush. Go to Skin Tone and color you iris. And if you want you eyes to really stand out, go to Brighten and voilá!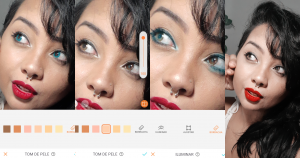 9. Freckles in a click.

Aren't freckles the cutest thing?! And for those of us that wish we had some freckles, AirBrush has a makeup option with them. Go to Makeup and you'll find it there under the name of… any guesses?!… yes! Freckles!
After that, go to Brighten, and make your freckles stand out.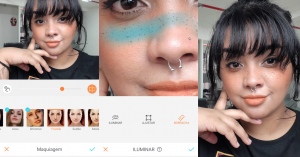 10. Glitter, glitter, glitter…
I looove glitter.
Have you tried using it on clothes?!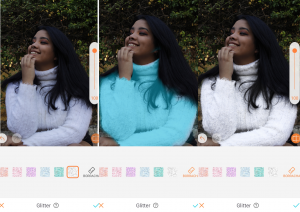 Or maybe on the background of your photos?!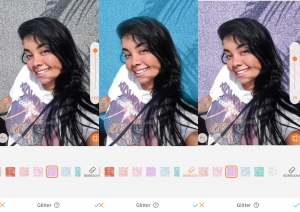 Be creative! You can use it anywhere!
Post your pictures on Instagram using AirBrush and don't forget to tag us @airbrush_br ! We are curious on what you can achieve using these tips and we really want to see it!
Just as a reminder, AirBrush has a lot of free tools, but it also has a paid version. You can subscribe monthly, quarterly or yearly. Cool, isn't it?!
That's it for now! I hope you enjoyed my tips and hope they gave you some ideas to edit your photos. <3
Kisses and until the next one! <3