The end of the year carries many opportunities, both personal and professional. One such opportunity lies in holiday photography. Whether you're a budding professional or a business owner donning another role, these tips will have your holiday portraits radiating that winter magic. AirBrush not only has the tools to help you get there, but we're also sharing a tutorial that transforms a regular December photograph into the holiday portrait of dreams.
A Meaningful Space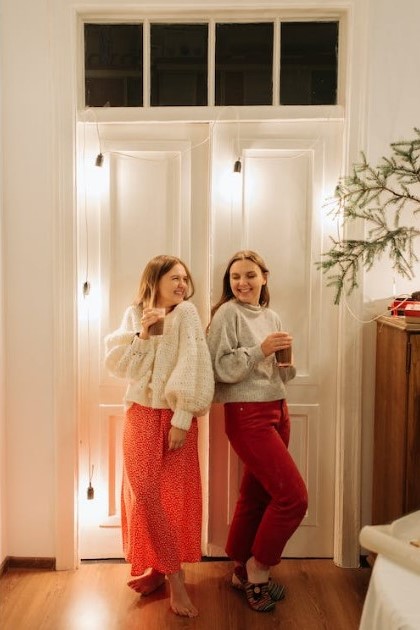 It's important to prep for your client's photoshoot and that includes selecting the location for holiday portraits. Because of the theme of the shoot, it's a good option to select a space that is meaningful to your clients. While it's important to bring in seasonal elements and items sentimental to your clients, don't go overboard with decorations. An opulent background can distract from the subject/s which is the opposite of what you're there to do.
Candid is Key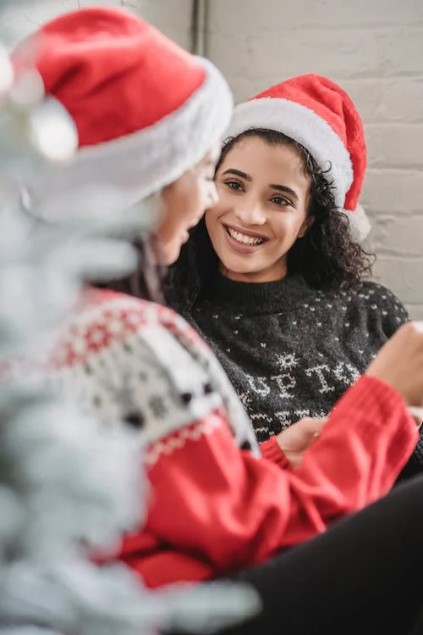 A posed portrait is classic and you should take a few of these to serve as an option for your clients. However, candid photos feel more warm and authentic and will probably be the more popular choice. These moments occur in between or during your direction to your subjects - as they help each other stand or embrace each other. The random touches or laughter provide a genuine touch to the photos so that they are always held fondly in memory.
Make it Fun and bring Props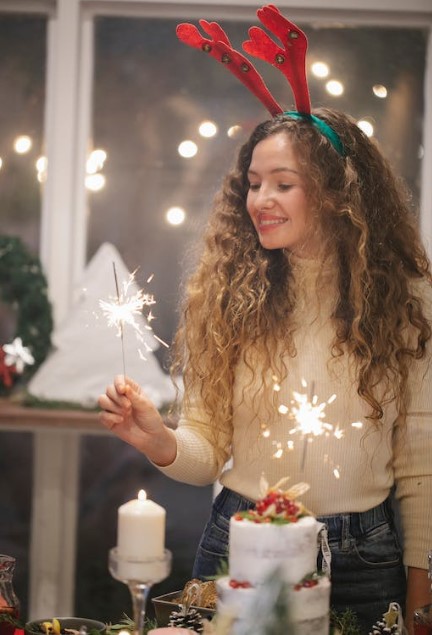 Aim to get your subjects engaged with their surroundings. If children are included, use the park to get great interactions between parent/s and child and that extends to the backyard, playing in snowdrifts or the kitchen baking treats together. Aside from using locations as a prop, you can bring along your own. Family-size blankets, knitted knots, reindeer noses and antlers make for fun and casual photoshoots. For more mature or elegant shoots, think delicate baubles, candles, garlands and retro Christmas lights.
Don't forget the wardrobe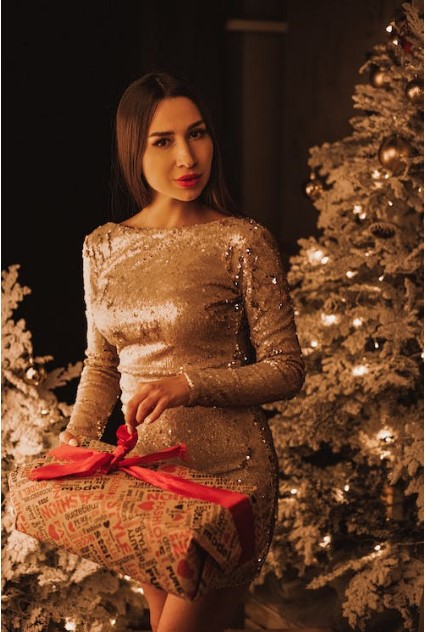 Of course, most instances of holiday portraits will be winter themed. So unless the photoshoot is somewhere tropical, the shoot wardrobe will be full of knits, layers and/or heavy materials. Ask your clients to consider whether they want matching pyjamas, coordinated Christmas sweaters or colors in general. Lighter fabrics are fine indoors but if subjects are venturing out of doors, remind them (and make suggestions) that more thought is required for each layer they don.
Holiday Portraits Edit
Enhance
Enhance is one of our oldest tools and has the full range of universal photo editing features like Saturation, Brightness, Contrast, Highlights, etc. You can toggle these in any number of combinations to achieve the mood and tone you're going for. Desaturate and heighten contrast for drama or boost brightness and add a vignette for a retro throwback.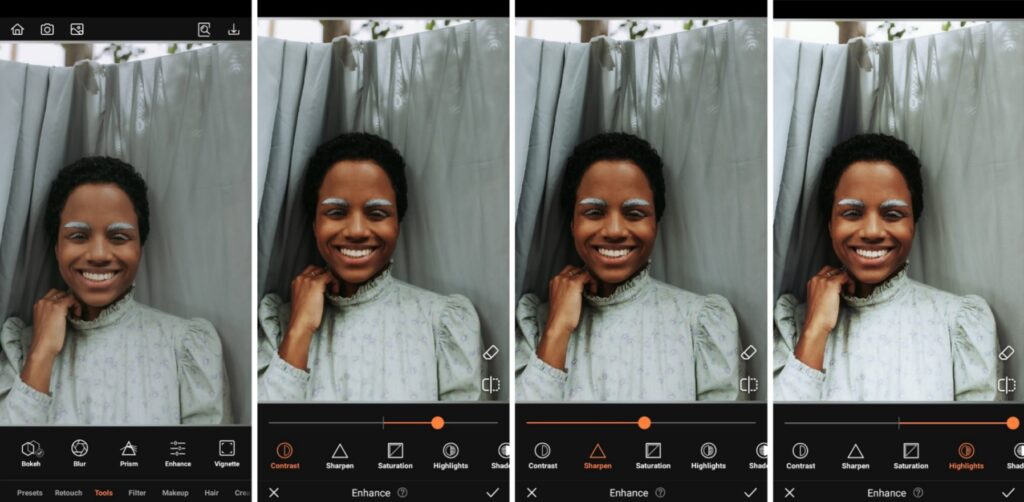 Filters
Filters contribute immensely to perfecting holiday portraits. There are Filters to adjust color and lighting but we want to give a shout-out to the Holiday and Diamond Filter categories. These will add a sparkle like you've never seen, from subtle for outdoors to over-the-top for party-type photos.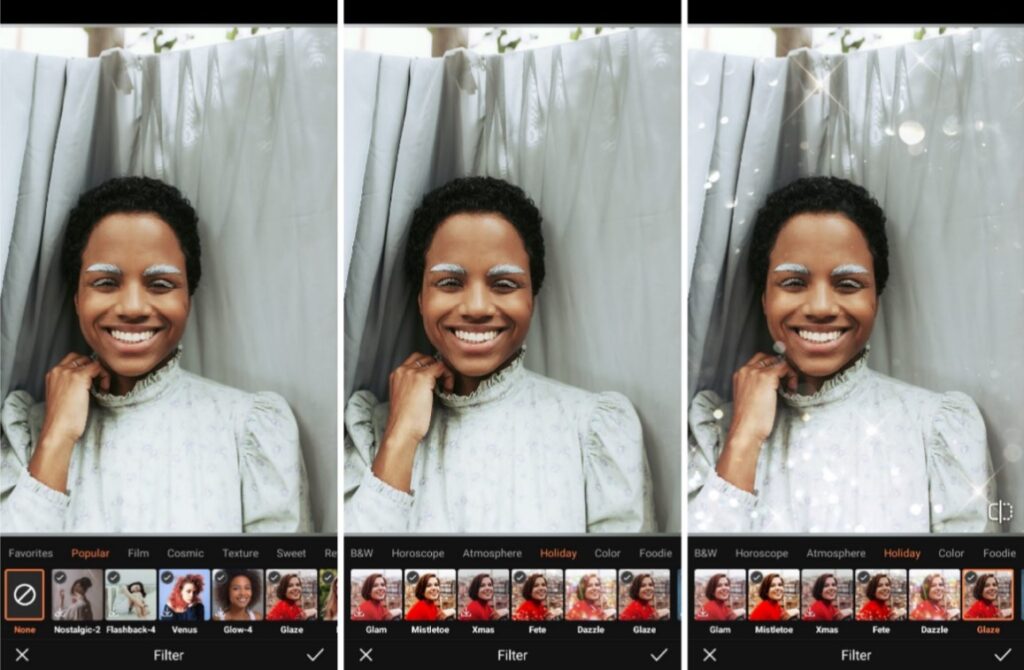 Bokeh
When we say professional-looking edits, Bokeh is a tool that delivers. Bokeh refers to the effect sometimes achieved via special lenses and techniques. You can get the same effect on your photos without the expensive lens.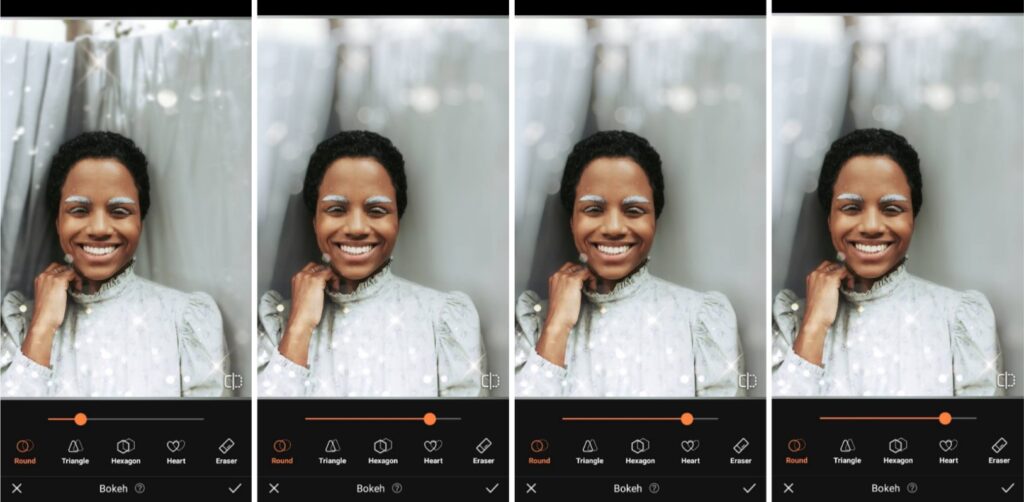 Details
Use the Details tool to emphasize the texture and well, detail, of any part of the portrait. Simply swipe over the area of the photo that needs to pop. Is it the lights of the Christmas tree? The sparkle of tinsel? The client's eyes or smile or manicure? You can isolate and emphasize exactly what you want.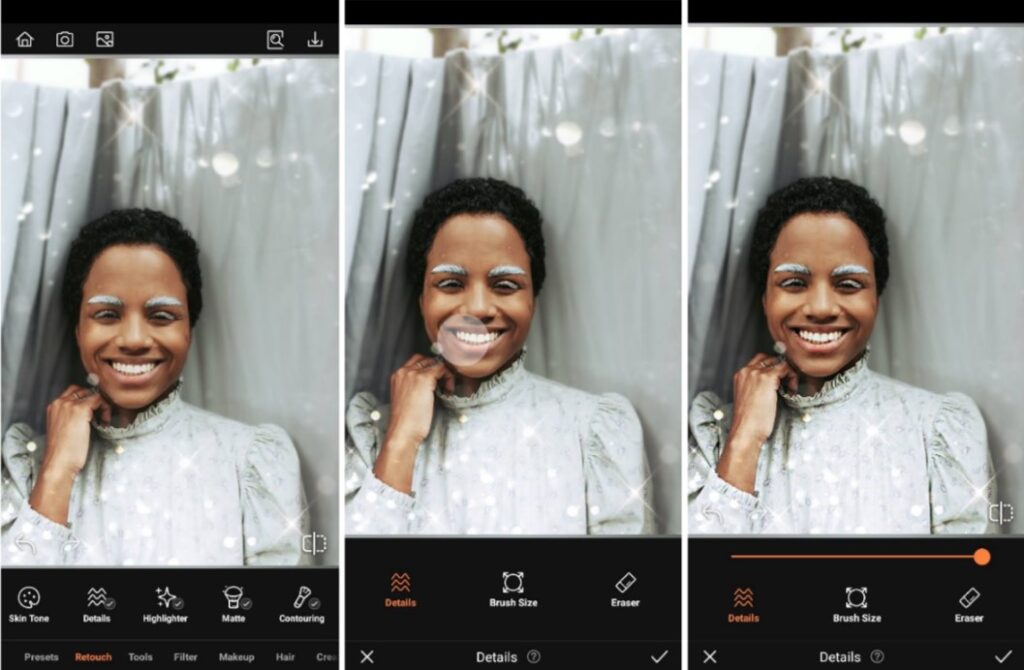 As we stated earlier, the year-end period is full of opportunities and that includes photo ops. Follow our tips above to make the most of this visually appetising time of the year. Creating beautiful holiday portraits will speak for themselves whether you're a pro photographer or creating assets for your brand. AirBrush, the easy photo editor, has the tools to create multiple styles of holiday photos, so you're free to put your own stamp on things. Tag your portraits with #AirBrushApp when you post online and then follow us @AirBrushOfficial for the latest tips, tricks and hacks.