Follow the AirBrush blog with Bloglovin!
Everyone loves Glitter. It's just a fact. 9/10 scientists say please stop asking us about glitter, we're working on real stuff over here. Which we think means that they also love Glitter. Why all this talk about shiny specs of magic that you can throw anywhere? Well because we are officially in holiday times. During holiday times all sorts of social engagements can ensue one of them being the infamous Holidate. The Holiday Date is a romantic time infused with all the holly jolly vibes of the holidays. So what does one wear for such an event. G-L-I-T-T-E-R. Intimidated? We know. That's why we're here to show you exactly how to get your glitter on just in time for a romantic rendezvous with the holidays. Let's go!
Strong Foundation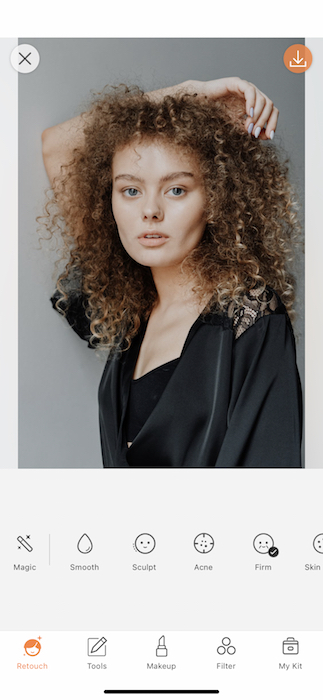 First and foremost, every holidate edit should begin with a good foundation. Find your Makeup Tab at the center of your main control bar. There you'll find Makeup Filter upon Makeup Filter all ready to take you from ground level to skyscraper (who remembers that Demi Lovato song? Classic, right?).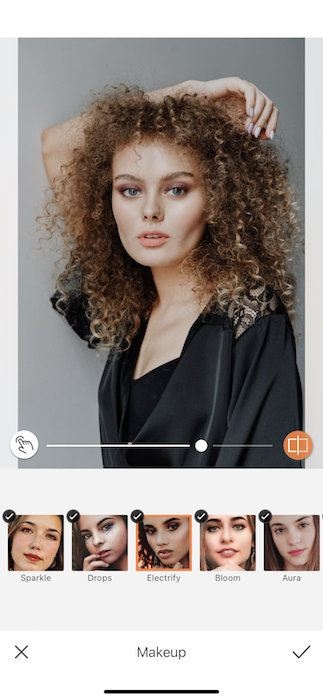 Any of these can serve as a starting point for your new look. For today's purposes we'll be using the Electrify Makeup Filter. When you've selected your preferred Makeup Filter you can choose to adjust the strength of the Makeup Filter by sliding the toggle from left to right. Because we'll be our main goal is to use Glitter for our look, we'll be using a very light dusting of the Electrify Makeup Filter. When moving from Filter to Filter you may get confused and forget where you even started. Use the orange Before button on the bottom right to see what your original image looked like then move on forward.
The glitter of it all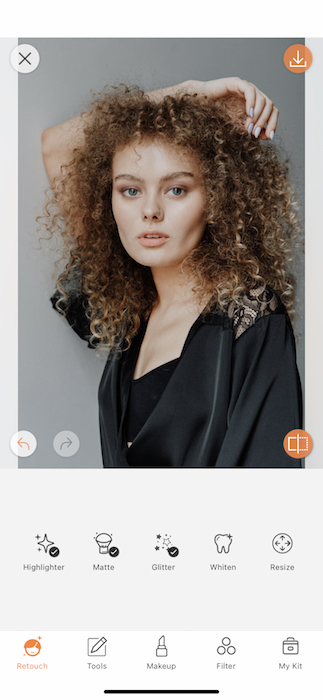 You may be looking at your picture and thinking "maybe this is all I need" and to that we say you're wrong. There's no such thing as subtlety in a holidate look. We're here for the Glitter. Find your magical Glitter Tool on your Retouch Tab. Once you tap on the Glitter Icon you'll see a set of gorgeous swatches appear. Unlike most of the AirBrush Tools and Features, Glitter does not have an adjustable brush. You are instead prompted to zoom in and out of your image to apply the Glitter.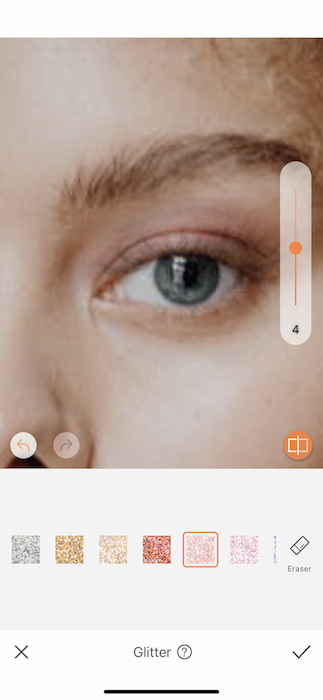 Let's start with a lil eyelid action. Zoom in on your target and begin to swipe across that surface. As soon as you've made your first move you'll se a toggle appear on the right side of your screen. You can use this to adjust the strength of your Glitter for your holidate look.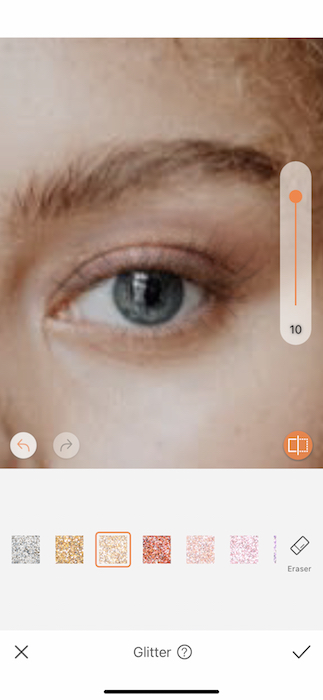 You can also switch between Glitter colors as long as you haven't saved your progress by tapping the check mark on the bottom right. While you're working you can do as much as change colors, adjust strength, and even erase some of your work by tapping the Eraser Function on the far right.
Stunning, gorgeous, how dare you look so beautiful! Play with the Glitter strength then tap the check mark on the bottom right to save progress.
Adjust adjust adjust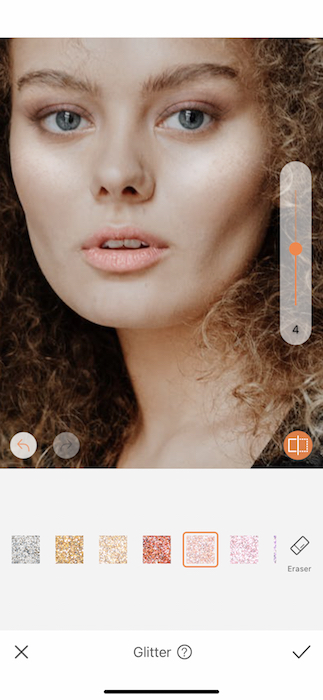 Oh did you think we were done? This is a holidate look, not an everyday look! Get back into your Glitter Tool and now apply a lil somethin' somethin' to those luscious lips of yours. It's your choice to go full lip gloss or just a lil "chapstick". Remember to use the strength toggle on the right and try to play around with the colors. You may be surprised how each will interact with the coloring on your photo.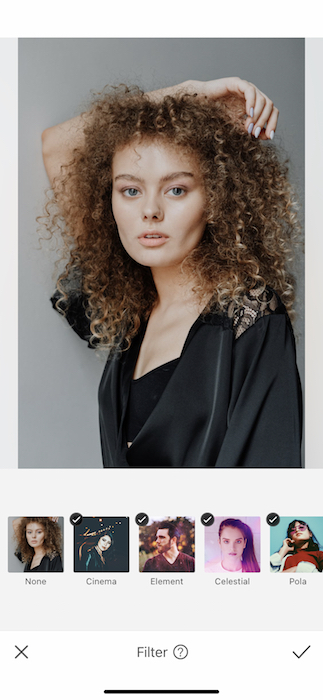 Just like you have a checklist before you leave the house key, wallet, etc. You should have a pic checklist that ends with a Filter. Head on over to your Filter Tab and find yourself a lil somethin' to tie this present up with a bow. The Analog Filter Pack overs some warm, contrast-y situations that are just perfect for our holidate look!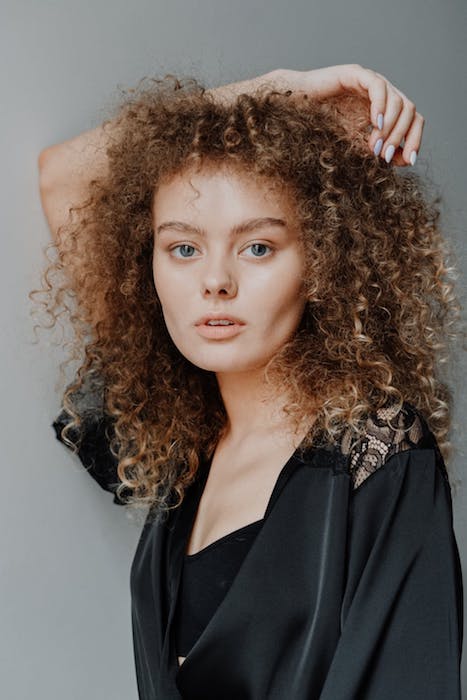 There you have it! Where it started vs how it's going. Now you're all ready for the ball! Every young lady should go to a ball! We hope you have a wonderful time on your holidate and if you manage to snap a few pics make sure to tag your friends over at AirBrush by using the #AirBrushApp. We might just feature you on our feed over at @AirBrushOfficial! Now get on our there and have some fun! It's holidate time!