Guys want cool pics too, bruh. Now while AirBrush may have an amazing array of Makeup Filters and Retouch Features, that doesn't mean there isn't anything left for the guys.That's why today we're showing you the quintessential set of edits you'll need to tap into your masculine side and still look so fresh and so clean clean on your next insta post. So, snap that selfie or find that adventure pic and get ready to create the perfect guy edit.
I.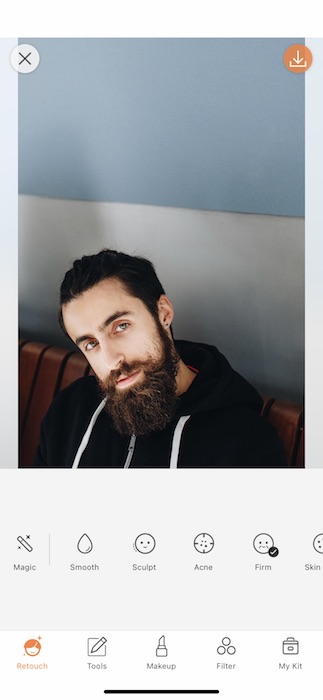 Real men should still care about their appearance! Here's a quick hack to clean up an unruly beard for your next edit.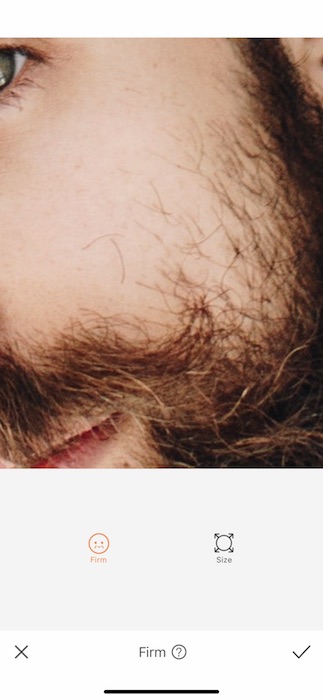 Zoom into your pic so you can clearly see your retouching target.
Adjust your brush size to fit your needs.
Begin swiping across the stray hairs, one by one.
Watch them disappear and clean up that beard!
Once you're done with your beard you can take the Firm Tool over to those brows.
Start cleaning up those strays with one swipe at a time.
(You're basically an esthetician now.)
You can also use the Firm Tool on moles or blemishes.
Tap the check mark to save your edit.
II.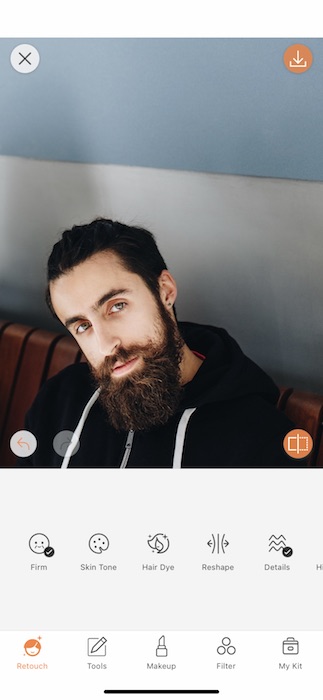 Who doesn't love a fresh dye job?
Find your Hair Dye Tool in the Retouch Tab.
That ain't what we're doing today.
Tap the white icon on the bottom left hand corner.
This is the Fine-Tune Feature. Here, you'll be able to manually select what you want to color in.
Tap the Eraser and adjust your brush to eraser all the selected area.
Adjust your brush again as needed and zoom into your beard.
Start swiping across gently to apply the dye to your beard.
Remember you can tap the Size icon to adjust the size of your brush at your convenience.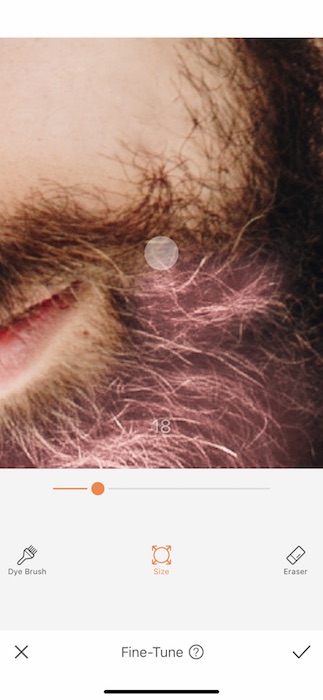 TIP: Select a bright color at first in order to be able to clearly see your progress as you brush.
If you color over the edge you can tap the Eraser and clean it up.
You can zoom in and out as needed by pinching your image.
Tap the check mark to save your progress.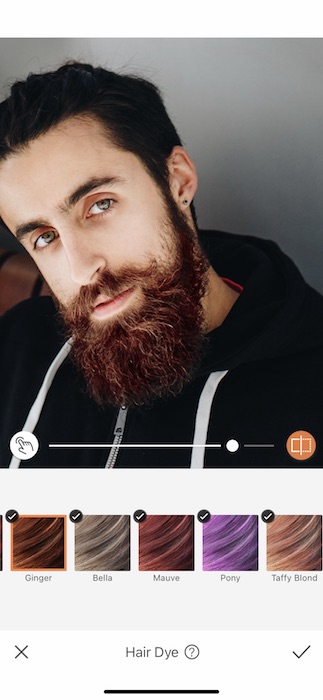 Once you're done Dyeing you can start playing with your swatches.
You can go through all of them as much as you'd like until you find the right one.
Use the center toggle to adjust the strength of the dye.
Tap the check mark to save to save your edit.
III.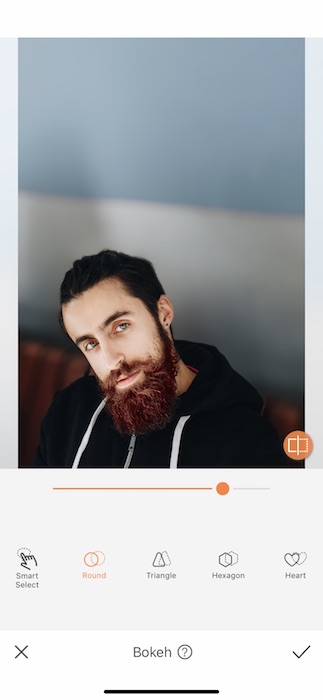 Understanding the power of the Bokeh Tool is what seperates the guys from men.
Find your Bokeh Tool in your Tools Tab.
Use the Bokeh to create depth in your image. Adjust the strength by using the center toggle.
Tap. That. Checkmark.
IV.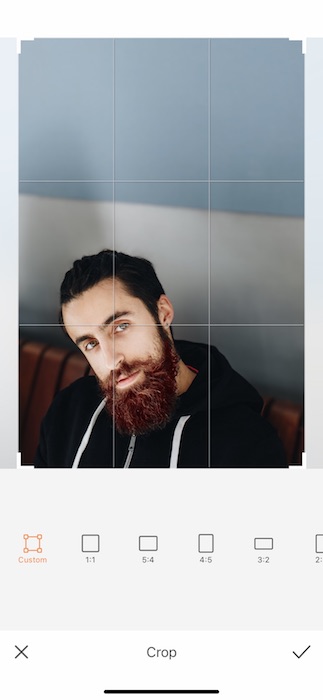 A good cropping job does a [photo] body good.
This is most likely this is goin' on the grid, amarite guy?
You'll have all the preset dimensions you'll need for virtually every kind of post or edit.
You can also use the Custom Crop Feature if applicable.
Tap your preferred dimensions and drag the cursors to frame your pic to your liking.
Tap the.. What? Check mark.
V.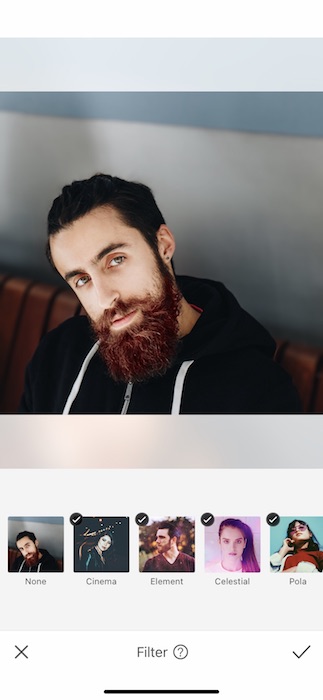 We're almost done with out guy edit!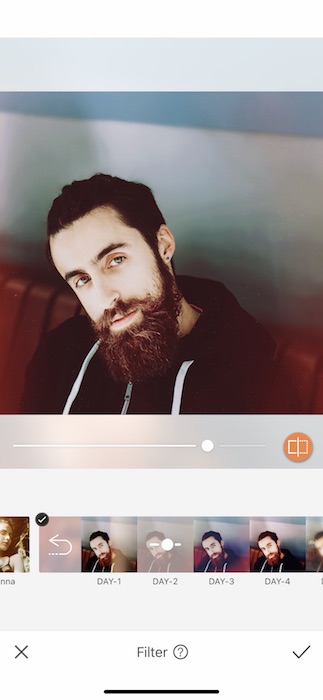 Tap through each one until you find the right fit for your guy edit.
Use the center toggle to adjust the strength of the Filter.
Guess what you do next…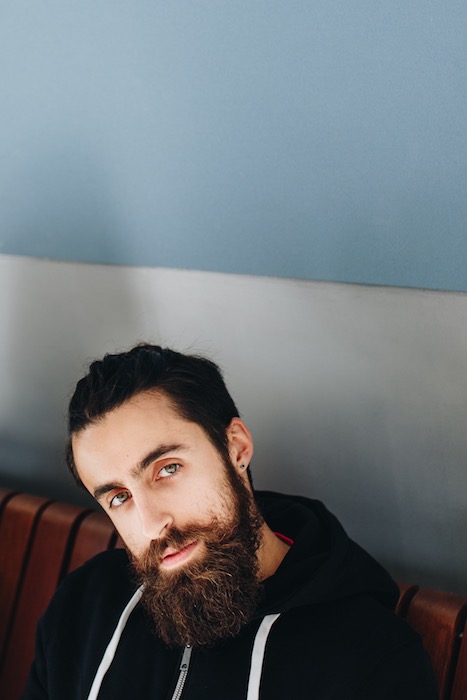 Bada bing bada boom! You've got yourself one handsome guy edit! Now that you're the manliest man editor on the planet, make sure to holler at your helpers at AirBrush. Use the tag #AirBrushApp and you might just get featured on our official @AirBrushOfficial Instagram page! Thanks for letting us show you the ropes, now get out there and edit!